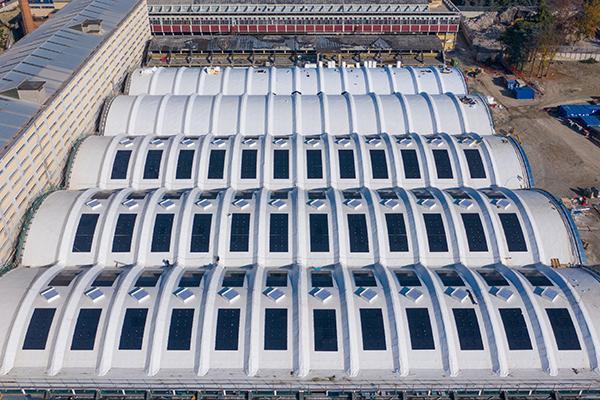 TECNOPOLO BOLOGNA
Soprema waterproofing membranes were chosen for the recovery and reconversion project of the former Manifattura Tabacchi complex in Bologna. Built in the 1950s based on a project by the engineer Pier Luigi Nervi, the complex which extends over an open area of ​​100,000 square meters is today a center of innovation and experimentation for industrial research and technology transfer.
What used to be a degraded and abandoned area is now a great reference point for development.
The project has protected the most significant buildings of the complex, subject to artistic constraints, which have been maintained in their integrity. The complex is divided into two parts: the first is dedicated to manufacturing, built inside a five-story building, while the other consists of five vaulted sheds intended for the storage of raw tobacco. The waterproofing of the roof was made using the synthetic membrane in TPO Flagon EP/PR Energy Plus White RAL 9016.
The Tecnopolo will host the center for European studies on the weather: in fact, Italmeteo, the new national agency for meteorology and climatology, will be established within it, which aims to bring together in a single structure all the resources currently dispersed throughout the national territory for give life to a new European hub dedicated to research and climate change.
This will also be joined by the new Data Center of the prestigious European Center for medium-range weather forecasts, the Ecmwf - European Center for Medium-Range Weather Forecasts, which will be inserted in the second area of ​​the complex, within the five vaulted sheds, three of which will be used as a computer centre, for a total of approximately 9,000 square meters of overall area.
Waterproofed surface:
Synthetic membrane TPO FLAGON EP/PR ENERGY PLUS White RAL 9016 - sqm. 25.000
Photo Credit: GMP Architekten, Tecnopolo