underground works and tunnel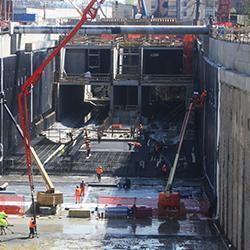 UNDERGROUND STRUCTURES AND TUNNELS
Soprema offers two main product ranges for underground structures:
Bituminous membranes.
Synthetic membranes.
Bituminous membranes are laid in total adherence to the structures that must be in-ground.
These solutions, therefore, are particularly suitable for projects carried out with open excavation (underground structures, tunnels, and more). The membranes have excellent performance in terms of punching resistance and resistance to roots.
Synthetic membranes are used as waterproofing membranes in GWD (Geomembrane Waterproofing Devices) in the execution of natural tunnels and in underground structures in general, especially in particularly difficult conditions (presence of water under pressure). Thanks to the multiplicity of solutions offered, these membranes allow to give technical answers even to the most complex projects.
The waterproofing solution must be designed with suitable materials and specifically designed.
Soprema offers different solutions ranging from the most sophisticated to the simplest, from the cheapest to the safest.
In all cases, for the good implementation of a waterproof system, it is necessary to choose a qualified laying company.
The implementation of coded application procedures by experienced installers with adequate quality control is the key to success.
Soprema
supports numerous companies all over the world: at the educational level with theoretical and practical courses, at the technical level for the development of the best solutions, and finally regarding the evaluation of economic and commercial aspects
Civil Rock Range: Bitumen-polymer membranes
Civil Rock Range: Synthetic membranes