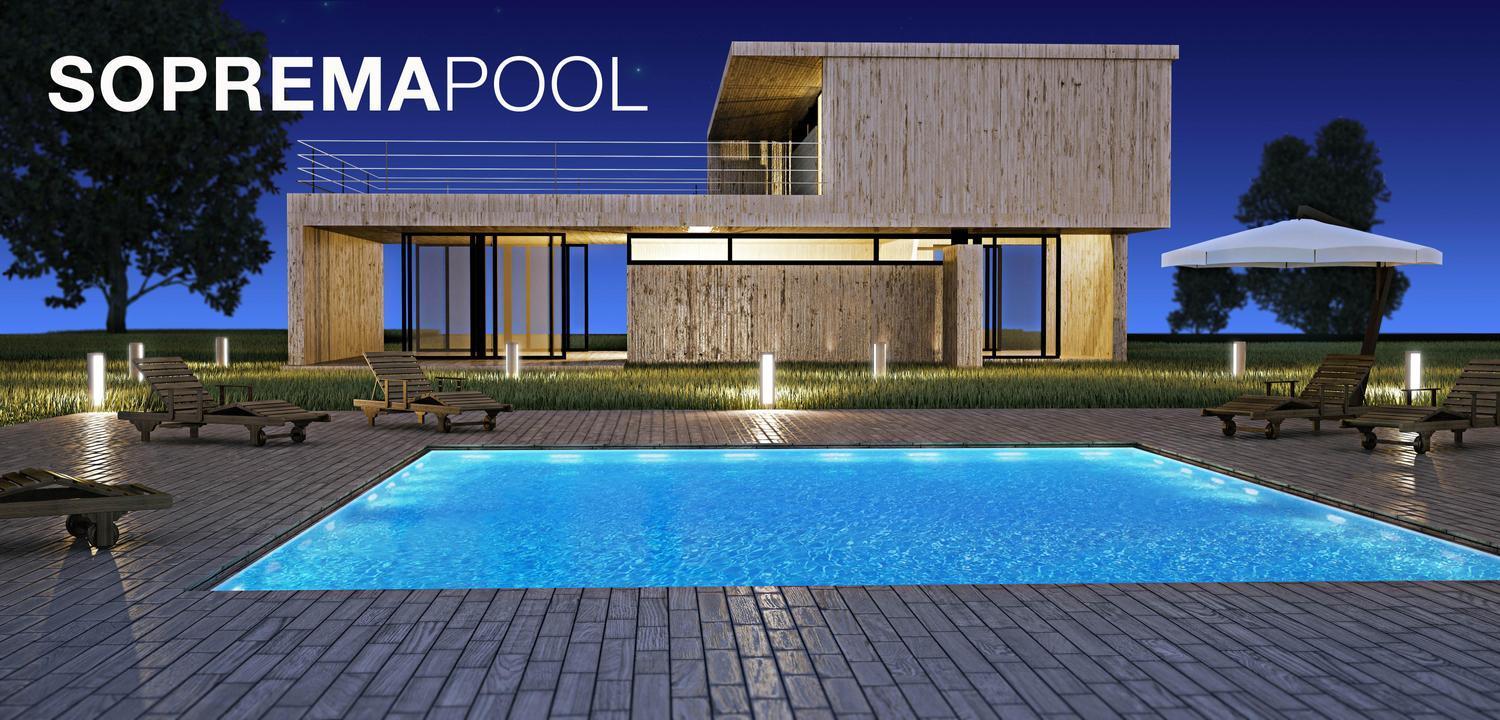 SOLUTIONS FOR WATERPROOFING OF SWIMMING POOLS
Soprema, world leader in the production of waterproofing systems, offers a wide range of reinforced synthetic membranes and other complementary products for the installation and maintenance of swimming pools under the SOPREMAPOOL name.
Sopremapool membranes are designed to waterproof, protect and decorate the pool. They are ideal for newly built pools and for renovating existing pools, whether private, public or water parks, always guaranteeing a perfect aesthetic result.
Sopremapool membranes can be installed in any pool bearing structure: reinforced concrete, prefabricated reinforced concrete, polystyrene and prefabricated metal panels.
MAIN FEATURES
4 layer membranes
Synthetic membranes in reinforced PVC-P, produced by coating with high quality raw materials (resins, plasticizers, stabilizers and pigments).
The 4 layers are composed with different and complementary formulations with the addition of a polyester reinforcement between the second and third layers, whose function is that of reinforcement. The reinforcement gives the membrane great tensile strength and high dimensional stability.
Its formulation and production process have been specifically designed to comply with the stringent performance parameters set by the European standard EN 15836-2 of 2010.
New wording
Our laboratories have improved the formulation of the membranes by integrating a special acrylic varnish between the 4 layers for the entire SOPREMAPOOL range, thus obtaining greater durability and resistance to:
Color
Chlorine
Spots
Microorganisms
Excellent weldability
Optimal welding for quick and easy installation.
High resistance to atmospheric agents and UV rays
The manufacturing process guarantees high protection from UV rays.
High resistance to microorganisms thanks to the "Bio-Shield" treatment
The formulation with the "Bio-Shield" treatment guarantees total resistance to the formation of microorganisms and avoids any molecular modification.
Resistance to hot/cold cycles
The membrane does not undergo alterations during the sudden changes in temperature between the different seasons of the year, as well as during day and night temperatures.
Excellent mechanical strength
The polyester reinforcement gives the membrane high tensile strength and dimensional stability.
Resistance to chemicals used for pool maintenance.
The resistance against the chemical agents used for water treatment guarantees maximum peace of mind during maintenance phases. For more information, see the "Water Maintenance Manual"